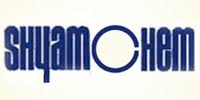 Shyam Chemicals is manufacturing inorganic copper chemicals since 1972. The company sells its products to customers from over 50 countries. Production is being done at the company's plant located at Ankleshwar, Gujarat. Constant quality improvisations, technology upgrades and consistency in production and distribution have assisted Shyam's growth, making us one of the premier inorganic copper chemical manufacturers in India, today.
Shyam Chemicals was recognized by the Indian government as a "One Star Export House". Its 10,000 sqm plant received ISO 9001:2015 certification. The company's product list includes:
Copper oxychloride technical & its formulations
Copper sulphate pentahydrate (sugarfine, granules & stone crystals)
Copper hydroxide technical & its formulations
Bordeaux mixture technical & its formulations
Copper sulphate monohydrate
Cupric chloride (anhydrous & dehydrate)
Cuprous chloride (granules & powder)
Copper carbonate
Tri-basic copper sulphate
Copper acetate
Cupric oxide
For additional information: https://www.shyamchemicals.com
How can we help?
We know, it is not easy to find the right material, product or technology. We are here to help.